EXCLUSIVE: Interview with Jodi Stuber of HopeWell Ranch
HopeWell Ranch is a non-profit organization that desires, through the use of rescued horses, to reach out to children and people who may have emotional, spiritual, physical and social needs. Owned and operated by Jodi and Ty Stuber, HopeWell Ranch has helped hundreds of special needs children through their compassionate and creative approach to physical and emotional therapy.
HopeWell Ranch is located just a couple of miles down the road from Pol Veterinary Services and has been a favorite charity of Dr. Pol's for years. Jodi Stuber, Co-Founder/Program Director, was kind enough to sit down with TheDrPol.com and give us amazing insight into her organization.

What is HopeWell Ranch and how did you guys get started?
HopeWell Ranch is a non-profit agency that provides free therapeutic horseback riding for children facing a variety of challenges such as Autism, attachment disorders, anxiety, divorce, bereavement issues, cancer, depression, abuse situations, anger management, etc. We began the ranch in 2004.
What compelled you to open up and run such an organization?
Ty and I were surprised to learn that in January of 2003 we were having another baby. Our two children, Jessica and Richard were already teens at that time so it was an unexpected blessing. Unfortunately due to complications brought on by Toxemia (excessively high blood pressure), our daughter died 5 ½ months in utero. After giving birth to her we named her Hope. When we spoke her name the Lord spoke to my heart that "Hope would rise again." I so needed that encouragement to make it through the days ahead. During my time at home I came across articles about horses and healing and decided that I wanted that for myself. I had always wanted a horse but never had owned one. I was lucky enough as a child to have access to riding lessons and horse camps. In April of 2004, I found a book at a local Tractor Supply Store called "Hope Rising". When I read the cover I gasped because the words God spoke to me echoed in my heart. This book is by Kim Meeder in Bend Oregon and the stories are about how she takes broken children and broken horses and brings them together and the miraculous happens. I bought the book, read it cover to cover and cried through most of it. I shared the stories with Ty and he said, "I think this is what we need to do." So in that moment, HopeWell Ranch was conceived and born.
What are some of the programs offered by HopeWell Ranch and what are the benefits to the children and their families?
The heart of our ministry is a free therapeutic horseback riding program for children with different challenges. We serve children with Autism, Attachment Disorders, bereavement issues, divorce, anxiety, depression, cancer, oppositional defiant disorder, attention deficit disorder, Tourette's Syndrome, Muscular Dystrophy, etc. One mom shared with me that after her son rides he becomes very still. He has Tourette's Syndrome and after being at the ranch his body "is at peace". A grandmother shared with me that her grandson was "transformed" by his time at the ranch. It is just such an honor to offer all these precious children and their families a place of love and acceptance, where labels are left at the road. They are just children needing what everyone does, to be loved and included.
The second service we provide is Equine Assisted Counseling and Equine Assisted Team Building. I am a certified Equine Specialist through EAGALA which stands for Equine Assisted Growth and Learning Association and is internationally recognized and is recognized by the American Psychiatric Association. Linda Walterreit who is a limited license Psychologist and myself both are certified and we work together with the horses to provide healing for the client. It is very powerful in its approach. The weekly sessions are 100% on the ground and the horses often mirror what is happening with the client. Each experiential session is very metaphoric in nature and our clients often have ah ha moments which helps them find lasting healing in a non-threatening environment. It is truly amazing to see someone gain insight or self-awareness in one of these sessions. We had an Alma College professor bring his students to the ranch to do a team building activity and he later exclaimed, "I can't believe how much information I just received from watching my students interact with the horses for an hour. I couldn't have done this in a more timely manner or probably have gotten such clear information as I did today!"
What do you love most about your job?
I love so much about my job but mostly looking into the eyes of the children who visit and showing them that they are valued and precious just as they are. It is a gift to be able to show them that they are loved. Plus working with animals is a huge blessing to me. Animals were always my outlet as a child. It is a privilege to be able to provide care for all the animals that make their home at the ranch. We have over 40 in total when we add up all the horses, goats, rabbits, chickens, ducks, dogs, and cats.
What surprises people the most about HopeWell Ranch?
First I think the fact that our riding services are free surprises people. I have been on the receiving end of hugs and tears from grateful parents when they hear that our services are a gift to them. The second common thing I hear is about the incredible sense of peace people feel when they come to the ranch. The families are almost awed by a feeling of serenity at the ranch.
What do you think of Dr. Pol, his staff, and what they bring to the community?
I love Dr. and Diane Pol. They are wonderful people of integrity and honor and their staff reflects those same values too. I know that Dr. Pol genuinely cares not only for his patients but also the people who entrust their animals to him. His years of experience, and his vast knowledge make him a trusted Veterinarian in our community. His desire to be of service at a reasonable price is also a huge blessing to everyone who needs him to care for their animals in our community. It isn't every day that you meet a person who puts the animal and people before the dollar! Dr. Pol is a straight forward, kind hearted man who loves what he does and we all benefit from it!
What is like to be a subject on "The Incredible Dr. Pol" show?
At first I was a bit apprehensive about being on the show but the wonderful crew put me at ease. When I focused on the Field Director and his questions, it was like answering questions asked by a friend. I am very grateful for the exposure the show has given to HopeWell Ranch. We have been asked by people all over the United States how to start and operate a non- profit like ours because of this exposure. It is really amazing to us that we have inspired individuals and more people may be helped around the U.S. because of seeing our segments on the Incredible Dr. Pol Show!
Have you formed any relationships with the crew members and have any of them been involved at HopeWell Ranch?
Ty and I would have to say that the crew from the Incredible Dr. Pol Show are really amazing people. They are kind and down to earth and they really love what they do. Their sense of professionalism is just terrific and we have been blessed to have some of the crew come to the ranch to actually volunteer their time working alongside us here at the ranch. Pete Berg and Mark Myers have also helped us produce a video interview that we were able to air at our annual Fall Benefit. Charles Pol even allowed us to auction a date off with him! Every person involved with the Incredible Dr. Pol Show seems to have a huge sense of volunteerism and are just wonderful people.
How can one help/volunteer/donate to HopeWell Ranch?
If people want to help by volunteering at the ranch they can contact us at 989-644-5965 or by checking our website at www.hopewellranch.org or by visiting us on Facebook! www.facebook.com/HopeWellRanch
If people wish to help us out by donating financially they can either donate online on our website or send checks payable to:
HopeWell Ranch
6410 W. Leiter Road
Weidman MI 48893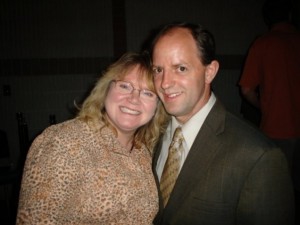 Jodi and Ty Stuber