Hey there Peeplz, Tater Pol here.  Everyone is putting stuff on my food and in my water these days and I was like, whaz' up with this?  So they tell me it's Dental Health Month.  That's fancy people speak for awesome teeth.  Then they asked me to write all about it, and I was like, guest editorial?  And they said, "well more like guest blogger".  But it's a gig so I'll take it. Now…
Us felines know ya gotta keep the claws razor sharp for mice catching.  But those fangs matter too!  Sharpening them on baseboards and mices' bones isn't enough to keep them healthy.  Too many of my friends – at least those that meow and bark – get dental disease after partying for their third birthday.  Now I'd like to tell you all I'm still a ripe ol' two and half, but… haha, not so much.  The peeplz are taking care of my teeth 'cause they know I still got lots of mices to catch!
So check this out.  They're adding Dr. Pol Pro-Den PlaqueOff to my food.  Apparently it's got some studies and a pet oral health seal and it's made of seaweed.  Wish it was made of fishes cause they're yummy, but this is pretty tasty and it helps soften plaque and tartar on my fangs.
Next up is this dental wipe.  Waaaaay better than brushing let me tell you!  Blech who likes that toothpaste that looks like bird poo and tastes likes the wrong kind of catnip plant?!  At least all that happens now is they wipe off my teeth and throw it away.  I think my breath seems oddly cleaner so I usually hunt for fresh snacks after this wipe business.  But I do kind of miss leaving toothpaste paw prints on the furniture.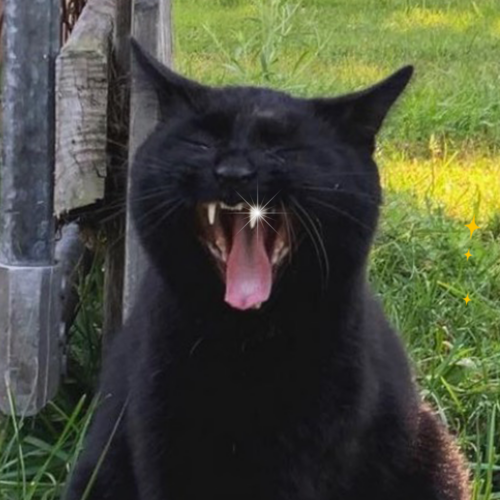 Also you Peeplz need to buy this stuff for the dogs too.  You do all the same things for them.  Which I highly recommend because yuck, have you smelled their breath?   They really need to stop the poo-eating and try catnip or dognip instead.
Well, that's my blog.  If you're still here.  I gotta scoot. The clinic is closing and it's time for Doc to fill my food dish.  Yummz, Appetizers before an evening of hunting with my awesome teeth!
P.S. Troublemaker Tip: pick the dental wipes back out of the trash and leave them laying around the house if you really miss making pasty paw prints.  😸
HUMAN EDITOR NOTE:  Many thanks this month Tater for his um, insightful and informative blog. Dental healthy truly is as important for our pets as it is for us. Start your cat(s) and/or dog(s) on the right track to optimal oral health and pick up these products today!
For more helpful blogs, pet tips, and answers to common questions, follow our Dr. Pol Pets page on Facebook and Instagram – we're a Paw-tastic family!  See ya!