Your pup is a part of your family, and they need proper nutrition just like us! From puppy stage to golden years, your dog needs vitamins, minerals, and many other compounds to stay healthy. Even if your dog has not taken a supplement before, it is never too late to add a nutritional boost to their diet. With Dr. Pol Heart-Shaped Multivitamin for Dogs, you can treat your pet to a delicious chew packed with nutrients to support their wellness at any age, and they'll love the beef flavor. But first, let's talk about why  multivitamin supplement matters.
For the Pampered Puppy
If you have experienced the delight of watching a puppy grow up, you know how fast they sprout! To support their growth and development, they need additional nutrition that may be missing from their puppy food. Minerals like calcium support healthy bone growth, and our complex vitamin blend promotes healthy development of nerves, eyes and eyesight, and the brain. Starting a puppy on a consistent multivitamin supplement at a young age, as young as about 12 weeks, will help set them up for a healthy life into their adult years and beyond.
Fierce, Fluffy, & Full-Grown
Though it varies by breed, the average dog is considered an adult dog after about a year.  Although their growth and development are mostly complete, they still need vitamins and nutrients to support their healthy systems and promote overall wellness. High quality foods that meet the Association of American Feed Control Officials (AAFCO) nutrient profile like Dr. Pol dog foods, or state "complete and balanced nutrition" are great starts to maintaining your pet's health.  You'll also want to check with your veterinarian.  At this age, a multivitamin can serve  as a maintenance supplement especially for those pets with dietary restrictions, picky palates, and chronic conditions.
The Golden Years
As your dog gets older, their nutritional needs change once again, just like humans. When the body ages, some systems become less efficient and need supplemental support. For example, a pet's joint mobility may decrease and lead to inactivity, limping, or slowness.  Your veterinarian may recommend a multivitamin supplement for your senior dog to help prevent or lessen the effect of age-related health problems. Pets of increasing age are also more susceptible to serious health conditions which may be linked to poor nutrition or poor nutrient absorption.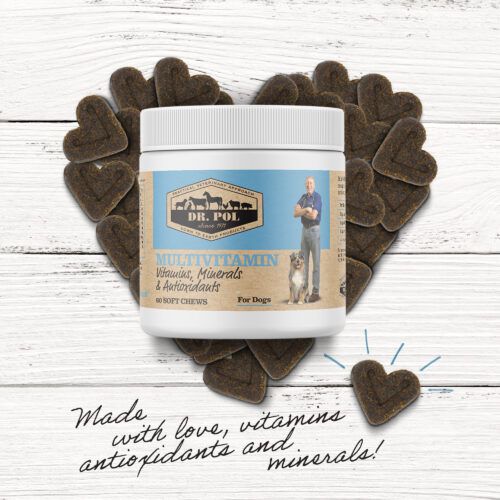 Dr. Pol Heart-Shaped Multivitamin for Dogs is a fantastic option for a dog supplement, packed with nutrients for total-body support and a savory beef flavor dogs love. Show your pup the same love they show you with a wholesome multivitamin supplement! Be sure to follow us on Facebook and Instagram for more reliable pet information, helpful blogs, and updates from Dr. Pol!
⭐ Did you know? ⭐ Our new pages, Dr. Pol Pets, is your destination for pet wellness tips, Q&A's, and more blogs like this. Click the like button and join the Paw-some family!